PodCamp Western Mass. 5 (PCWM),  convened on Saturday, March 30 at Holyoke Community College's Kittredge Business Center.
PCWM, in short, is a full day of lively discussion, info-sharing, and plenty of documentation via smartphone, tablet, or laptop. The event welcomes anyone interested in learning more about social media and networking, from beginners to advanced practitioners. It's one example of a PodCamp — an 'unconference' at which participants choose the topics they'd like to discuss. It's worth noting that ours is the only PodCamp in the region and is organized by local volunteers… and, I suppose, worth noting that I say 'ours' because I've been there, like others, since the first PodCamp Western Mass., when our coffee set up left something to be desired.
It's the democratic approach of PodCamp that is most important, though. It's in line with the key tenets of social media and networking, which aim to involve everyone in a global conversation. Plus, I believe our world has always been a social one, and while technology is moving the medium forward, it's still a very human phenomenon. 'Real-life' events like PCWM highlight that fact, and offer all types of people – extroverts and introverts alike – opportunities to both learn and teach.
PodCamps aim to promote education, innovation, and collaboration between new media enthusiasts and professionals of all types, including bloggers, podcasters, YouTubers, social networkers, and the people who read, watch, and listen to them. Anyone can also suggest or lead a session, and topics often include overviews of current and emerging new media tools.
I started the day with a session on Bitcoin lead by Joe Cascio. Through no fault of Joe's, I must say in some ways Bitcoin, and its product Bitcoins, are  still a mystery to me, but it's an intriguing concept to say the least.
In a nutshell — a very big nutshell — Bitcoin builds upon the notion that money is 'any object, or any sort of record, accepted as payment for goods and services.' Bitcoins themselves are digital, and therefore not tangible, but their value comes from the fact that there's a finite number of them. This is about where I start to go cross-eyed … but the bottom-line is Bitcoins are digital currency that can be used for myriad types of purchases online.
I originally decided to check out the Bitcoin session because I'd been seeing the term popping up in the headlines recently, and not just in stories about social media. They've hit the news for two reasons: because they're not regulated, they've become associated with what's known as the Silk Road online — think eBay for drugs. But more importantly, they're also gaining popularity in European countries like Cyprus, Spain, and other places with "shaky relationships to the Euro."  Finally, it's predominantly individuals, not businesses, who are using and trading Bitcoins but regardless the value has shot up to more than $90 a coin in recent months.
Introverts, Extroverts & Social Media
After the BitCoin session, it was on to something more soul-searching but no less informative –the Social Media for introverts and Extroverts session led by Val Nelson. Val specializes in 'helping heart-centered people make their mark — despite any blocks about key strategies like networking and communications,' as she says (well).  So, she was perfect facilitator for this session.
The big take-away of the day was that by most accounts, we live in an extroverted culture, but both introverts and extroverts contribute to the conversation. Extroverts gain energy from social interaction, Val explained, and can therefore seem more influential. Introverts, however, are often more thoughtful in their approach to communication, allowing concise, well-thought-out ideas to shine through.
Through a series of questions, we gauged as a group what we thought of introverts and extroverts in one-on-one situations, online, in front of groups, and at parties or functions. While we each had different opinions and levels of comfort, it was eye-opening to see how many similarities were shared. Introvert Karo and Extrovert me, for example, agreed that we network better online than anywhere else, even though we felt we brought different skills to the table.
Val also recommends the book Quiet by Susan Cain, which aims to ' show how dramatically we undervalue introverts, and how much we lose in doing so.'
…After lunch, catered for the second year by HCC's culinary group, my brotha from anotha mutha
Alfonso Santaniello
and I two-timed the instruction of the
Twitter 101
session. Our internet connection was slow, but we got a lot of great questions from the crowd and a few previously unimpressed people signed up to Tweet.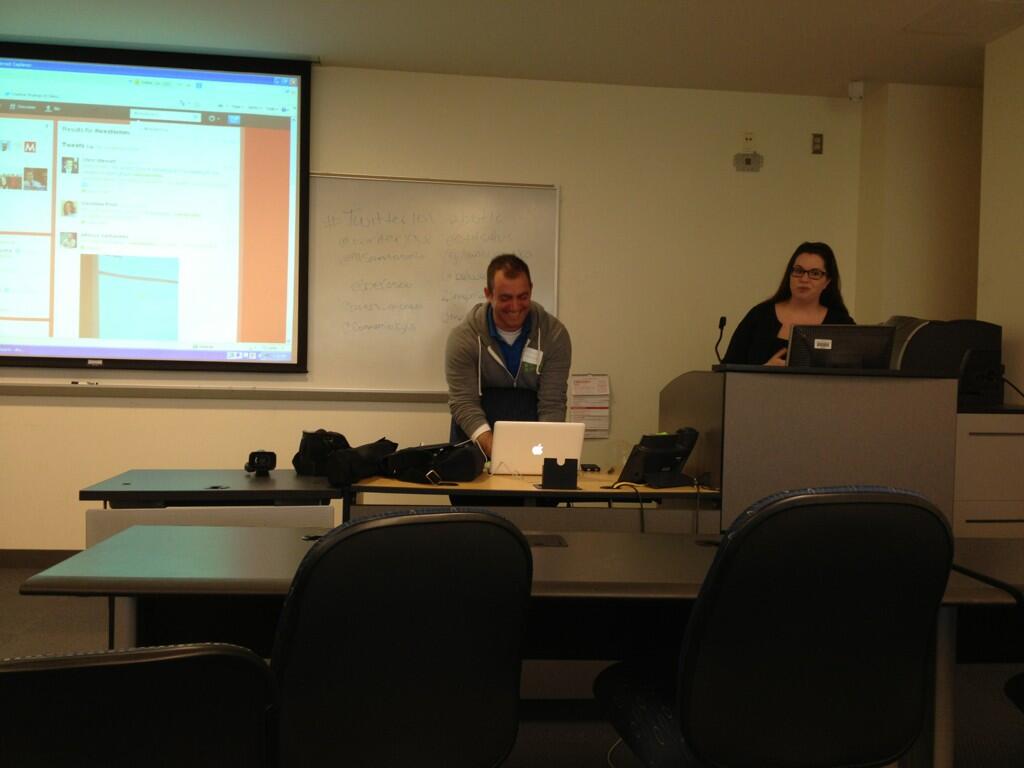 Then, back up the stairs to Social Media Therapy- in short, Resources, apps, and tips to help save our souls. The session resulted in some therapy-worthy, prophetic thoughts, though, like this one from Christine Pilch Mancini:
"Ask potential clients qualifying questions: What are you trying to achieve? Where do you want to go? A real #SM professional usually doesn't call themselves an expert. We understand that we are "early adopters," not gurus."
The session also led well into a different seminar, Social Tools for Productivity, lead by Christine and Lesley Weber Lambert. This was another fantstic note-taking session that started  talking about #Animoto – this is an example! So fun!  http://www.youtube.com/watch?v=57jTc5GJxIY … and wrapped with a subtle reminder that  users of voice-dictation apps and software don't need to dictate punctuation when leaving a voicemail. "Hi, this is Lesley. Period."
Another great tip:
CamCard, WorldCard Mobile, CardMunch- all apps that scan biz cards into your phone! #productivity.
Finale
The Slainte After-party